A Redundant Array of Independent Disks (RAID) is a data storage system used by businesses and individuals worldwide. There are various RAID levels used for different purposes. They range based on the storage capacity, the number of disks, and data storage methods. Regardless of what RAID configuration is used, data loss is unavoidable.
Each RAID level requires an individual approach to the case, as this is the only way to achieve maximum recovery results.
RAID is not bulletproof and is susceptible to data loss. Practice shows that RAID controller failure, hard disk drive faults, or any other reason can cause file inaccessibility. In any case, relying entirely on the reliability of an array and not taking care of backups, you risk losing valuable data.
The possibility of data loss can be decreased by regular monitoring and correct maintenance. Nevertheless, it is still impossible to reduce the chances of failure to zero.
How Different RAID Levels Work
RAID 0
This RAID configuration divides data into blocks and spreads them across multiple drives. It is built with two or more disks. Single block-size files are evenly distributed across two or more of them.
Due to the lack of redundancy in the RAID 0 array, if one of the drives fails, it is impossible to restore the lost data only from the working drive. The only exception will be files that are smaller than the block size. For full RAID 0 data recovery, we recommend calling a reputable data recovery company.
RAID 1
This level uses mirroring technology for data storage. It is usually built using two disks. Information is written to both drives at the same time. If one of the disks fails, the array remains operational. If the controller fails and the array is no longer detected, RAID 1 data recovery can be performed with recovery engineers.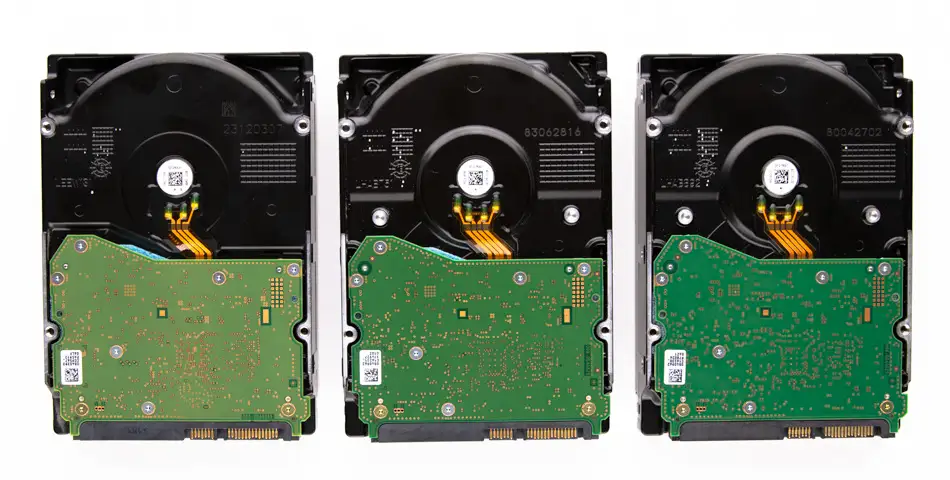 RAID 5
This is a parity-controlled array. Its main advantage is the distribution of blocks of information and parity check of the disks. At least three disks are needed to create such an array. Parity blocks in RAID 5 are used to calculate missing data when one of the drives in the array fails. 
In most cases, when one of the drives fails, the array continues to operate. But it also happens that when one drive fails, the controller mishandles the situation, and the RAID either stops working correctly or crashes completely.
Such a failure can also occur during an array rebuild, performed after a disk replacement. Sometimes one disk failure within a short time is followed by another disk malfunction. RAID 5 data recovery must be entrusted to professional engineers.
RAID 10
RAID 10 is a union of level 0 with level 1, so two stripes are combined into a mirroring storage system. A minimum of 4 disks are required for this type of array. When a problem occurs, the first step is to determine whether the problem is with the controller or the disks.
If the problem is at the controller level, you must estimate which drives are combined into RAID 1. Working with RAID 10, it is critical not to mix up the drives, as this will give no results. 
During the operation of 
RAID 10
, it also happens that two disks fail. Here the following scenarios are possible:
1) Both disks belong to the same pair, the controller handles the exceptional situation correctly, and the array continues to function normally.
2) Both disks belong to the same pair, but the array crashes. In this case, we work with the working pair and handle the non-functioning drives based on it.
3) Drives belong to different pairs. RAID 10 data recovery in this case is considered to be one of the most complicated.
Regardless of the failure scenario and RAID level, it is beneficial to contact professional data recovery engineers for assistance. Losing confidential and critical data on RAID is a sensitive situation that must be handled by experts. 
RAID Data Recovery with PITS
PITS Global Data Recovery Services is a reliable company that delivers RAID data recovery services for individuals and enterprises. Our technicians have deep knowledge of RAID infrastructure and restore lost, deleted, or corrupted data regardless of the configuration. 
By evaluating the device at the beginning of our process, we estimate the reason for data loss, the level of damage, and the approximate turnaround times. Based on the results, we choose the most effective data recovery method for your case. 
After selecting the recovery strategy, we step by step recover your data from RAID. Our technicians work on RAIDs only in specialized labs, including ISO Certified Class 10 Cleanroom, to support the highest level of security. 
Our RAID Data Recovery Services:
PITS has years of experience in data recovery. We are proud to support a 99% success rate over these years. Our team aims to provide customers with a safe process, a positive experience, and maximum results.
Instead of using data recovery software, contact us. You can start your RAID recovery case with us by calling our customer service at (888) 611 0737 or filling out the form below. Our experienced team will gladly answer all your questions and provide all the required information.
"*" indicates required fields