At PITS Global Data Recovery Services, we received an urgent request from a customer who had a Dell laptop that had stopped working. The customer was worried about the data loss and needed an emergency recovery option. We immediately responded to his request and offered our emergency recovery service. This option is specifically designed for cases where the customer needs their files back quickly.
Our team offers emergency recovery services for time-sensitive cases. We understand how important the data is for our clients, and we want to fix the issue as soon as possible. We prioritize the case, assign a team of experts, and keep the client updated about the progress. Our emergency service is available 24/7, and we use the latest technology to recover data as quickly as possible.
Why Can a Dell Laptop Stop Working?
When a Dell laptop stops working, there could be several reasons behind it. Sometimes it could be an issue with the operating system, and the computer may display an error message. 
In some cases, the laptop may start in safe mode, but the files may not be accessible. It could be due to a virus attack, hardware failure, or physical damage to the hard drive.
Our Data Recovery Process
At PITS Global Data Recovery Services, we follow an evaluation process to determine the root cause of the issue. Our engineers performed diagnostic tests to identify the issue. In this case, we discovered that the laptop was damaged by dropping, and a failure in a hard drive occurred. This caused data loss, and the customer could not access his files.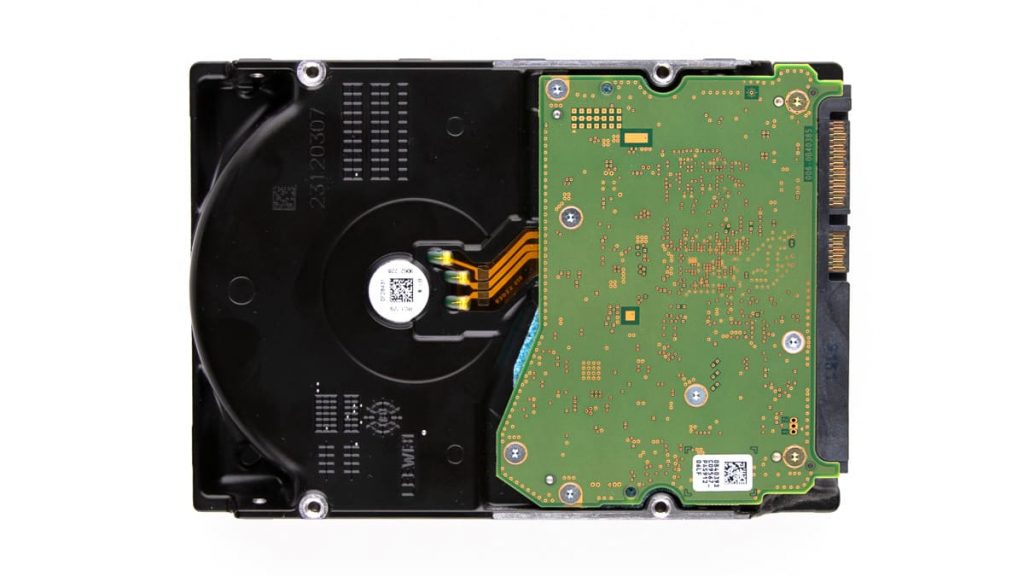 Our highly-qualified engineers then began the data recovery process for the physically damaged Dell laptop hard drive. Experts at PITS use a precise method to work on the hard drive, which involves working in a certified cleanroom. 
The ISO Certified Class 10 Cleanroom is a controlled environment where the air is filtered to remove contaminants such as dust particles. The temperature and humidity are maintained at specific levels. This ensures that the hard drive is not damaged further during recovery and that the lost data is accurately restored.
We carefully opened the hard drive and analyzed the physical damage to the platters. We then used specialized equipment to extract the data from the damaged hard drive. The lost files were recovered in a bit-by-bit process and were then transferred to a new storage device.
Our data recovery process was successful, and we could recover deleted data for our customers. After the data recovery process was completed, we scheduled a verification session for a client. This way, he could review and approve all the restored data.
After the verification session, we transferred the recovered files to a brand-new external media and sent them back. As soon as our client accessed the returned data, we removed it from our servers.
Why Choose PITS Global Data Recovery Services
Choosing PITS Global Data Recovery Services has several advantages. We have a team of experienced data recovery experts who are equipped with the latest technology and tools to recover lost data accurately.
At PITS Global Data Recovery Services, we understand the importance of data for our clients. We work hard to recover lost data as quickly and accurately as possible. In addition, we provide emergency recovery services to ensure that our clients get their data back quickly.
Our emergency recovery services are designed to cater to cases where the client needs their data back urgently. We follow a precise evaluation process to determine the root cause of the issue and provide an accurate quote. Working in an ISO-Certified Class 10 Cleanroom environment, we ensure that the data recovery process is accurate.
Moreover, we understand that losing data can be a stressful experience. Hence, we provide personalized services to ensure that our clients feel comfortable throughout the recovery process. We keep our clients updated about the progress of their cases and provide them with detailed reports.
Advantages of Our Data Recovery Services:
Our company prioritizes protecting and securing our client's data and ensures that all recovered data is kept confidential. Our data recovery process complies with industry standards and regulations. We use secure data transfer methods to ensure that our client's data is always protected.
At PITS Global Data Recovery Services, we pride ourselves on providing high-quality services to our clients. We have a robust track record of successful data recovery and have helped numerous clients recover their lost data. Our engineers are committed to providing our clients with the best possible service, and we ensure we exceed their expectations.
Losing data can be a stressful and frustrating experience, but at PITS Global Data Recovery Services, we are here to help. We provide emergency recovery services and secure data recovery solutions to ensure our client's data is recovered quickly and accurately. 
Our company works hard to ensure that our customers are satisfied. We are dedicated to delivering the best possible service to our clients. Choose PITS Global Data Recovery Services for all your data recovery needs. We guarantee you will not be disappointed.
Instead of using data recovery software, start your data recovery process today by filling in the form below or dialing 888 611 0737.
"*" indicates required fields